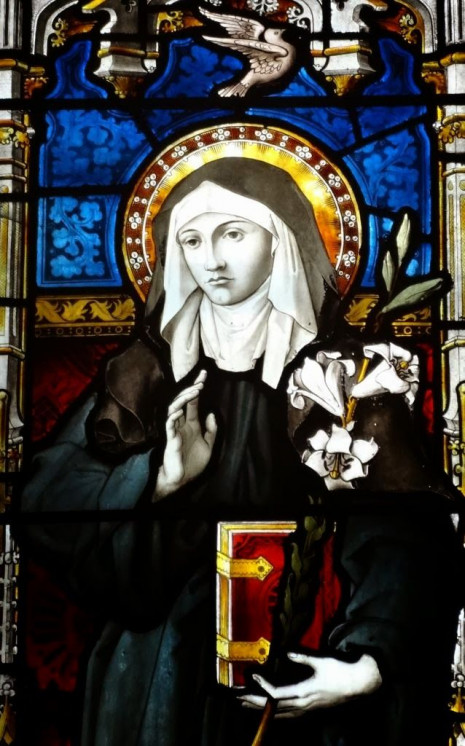 St. Scholastica
Feast day: February 10
Born: 480
Death: 543
St. Scholastica, twin sister of St. Benedict, consecrated her life to God from her earliest youth. Born in 480 of wealthy parents, Scholastica and Benedict were brought up together until he left central Italy for Rome to continue his studies.
After her brother went to Monte Cassino, where he established his famous monastery, she took up her abode in the neighborhood at Plombariola, where she founded and governed a monastery of nuns, about five miles from that of St. Benedict, who, it appears, also directed his sister and her nuns.
She visited her brother once a year, and as she was not allowed to enter his monastery, he went in company with some of his brethren to meet her at a house some distance away. These visits were spent in conferring together on spiritual matters.
On one occasion they had passed the time as usual in prayer and pious conversation and in the evening they sat down to take their reflection. St. Scholastica sensed her death was close at hand and she begged Benedict to stay with her until the next day.
He refused her request because he did not want to spend a night outside the monastery. St. Scholastica asked God to let her brother remain and a severe thunderstorm broke out, preventing Benedict and his monks from returning to the abbey.
Benedict cried out, "God forgive you, Sister. What have you done?" Scholastica replied, "I asked a favor of you and you refused. I asked it of God and he granted it."
They spent the night in spiritual conferences. The next morning they parted to meet no more on earth. Three days later St. Scholastica died, and her holy brother beheld her soul in a vision as it ascended into heaven in the form of a white dove. He sent his brethren to bring her body to his monastery and laid it in the tomb he had prepared for himself. She died about the year 543, and St. Benedict followed her soon after.
Scholastica and Benedict gave themselves totally to God and gave top priority to deepening their friendship with him through prayer. They sacrificed some of the opportunities they would have had to be together as brother and sister in order better to fulfill their vocation to the religious life. In coming closer to Christ, however, they found they were also closer to each other. In joining a religious community, they did not forget or forsake their family but rather found more brothers and sisters.
Mass Schedule
| | |
| --- | --- |
| Mon | No Mass |
| Tue | 9:30am |
| Wed | 9:30am |
| Thu | 7:00pm |
| Fri | 10:00am |
| Sat | 5:00pm |
| Sun | 11:00am |
All Services